Asking to eat râpure during a midsummer heat wave in Nova Scotia is akin to requesting gumbo in south Louisiana in July.
I made this faux pas while visiting cousins this summer, not realizing this traditional Acadian potato dish, which requires three hours in a hot oven, is typically a cold-weather comfort food.
No matter the heat, Louann Doucet of Mateghan, a cousin of my children's Acadian-Cajun cousins, turned on her air conditioning and graciously obliged my request — teaching me the origins of the dish, explaining the ways to prepare the potatoes and introducing me to a new kitchen condiment.
After slipping the casserole-like dish in the oven, we went to the beach, later reconvening in Doucet's kitchen to devour the belly-filling goodness which was no less delicious for it being slightly warm outside.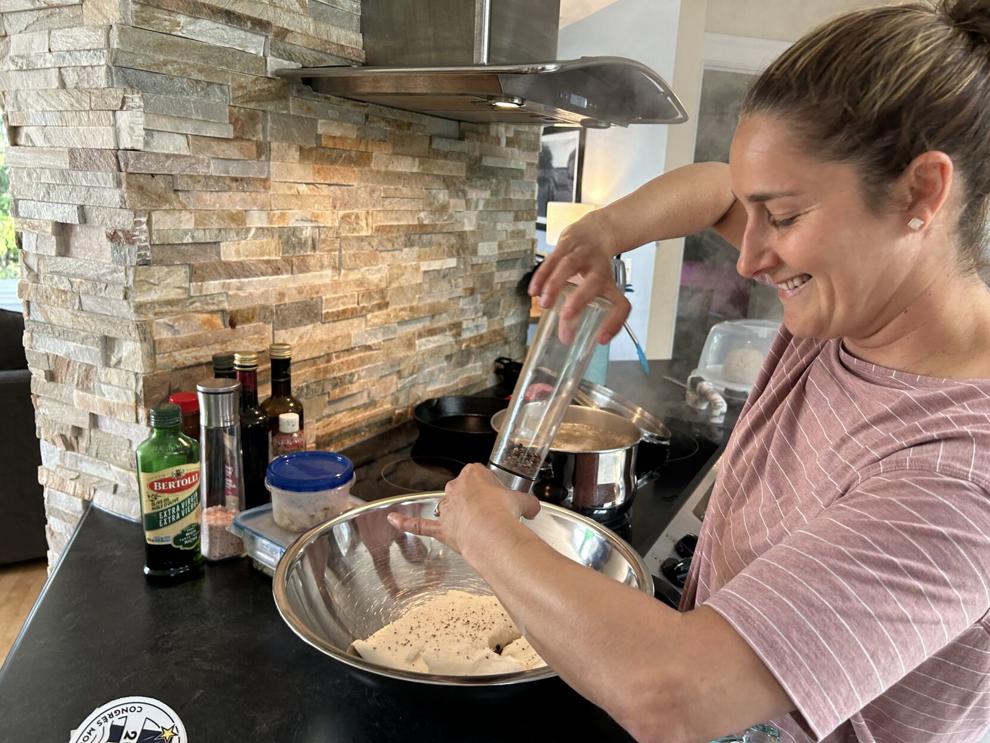 Râpure originated among the Acadians who returned to Eastern Canada after the end of the Acadian expulsion which lasted from 1755 to 1778. During their exile, they had interfaced with various cultures who used potatoes in their foodways. They brought this knowledge back with them as they developed a variety of traditional dishes in creative response to the fact that it was going to be potatoes again for supper. The lands available for farming were comprised of rocky soils where little else would grow.
"The most important thing with râpure is that you can't have two Acadian women from different households making one râpure — no household makes it the same. There are a zillion different recipes, and everyone swears by their own recipe," Doucet explained.
One grandma swears by lard instead of butter. An aunt insists on frying the onions before adding them to the broth. In regard to the amount of chicken used, Doucet notes, "Some like their chicken with râpure and some like their râpure with chicken."
Doucet's uncle uses only chicken thighs, claiming it helps him achieve the highly sought-after crust — the slightly golden, crispy, delicious layer of toasted potatoes that forms at the top and edges and gives this dish its English name, "rappie pie."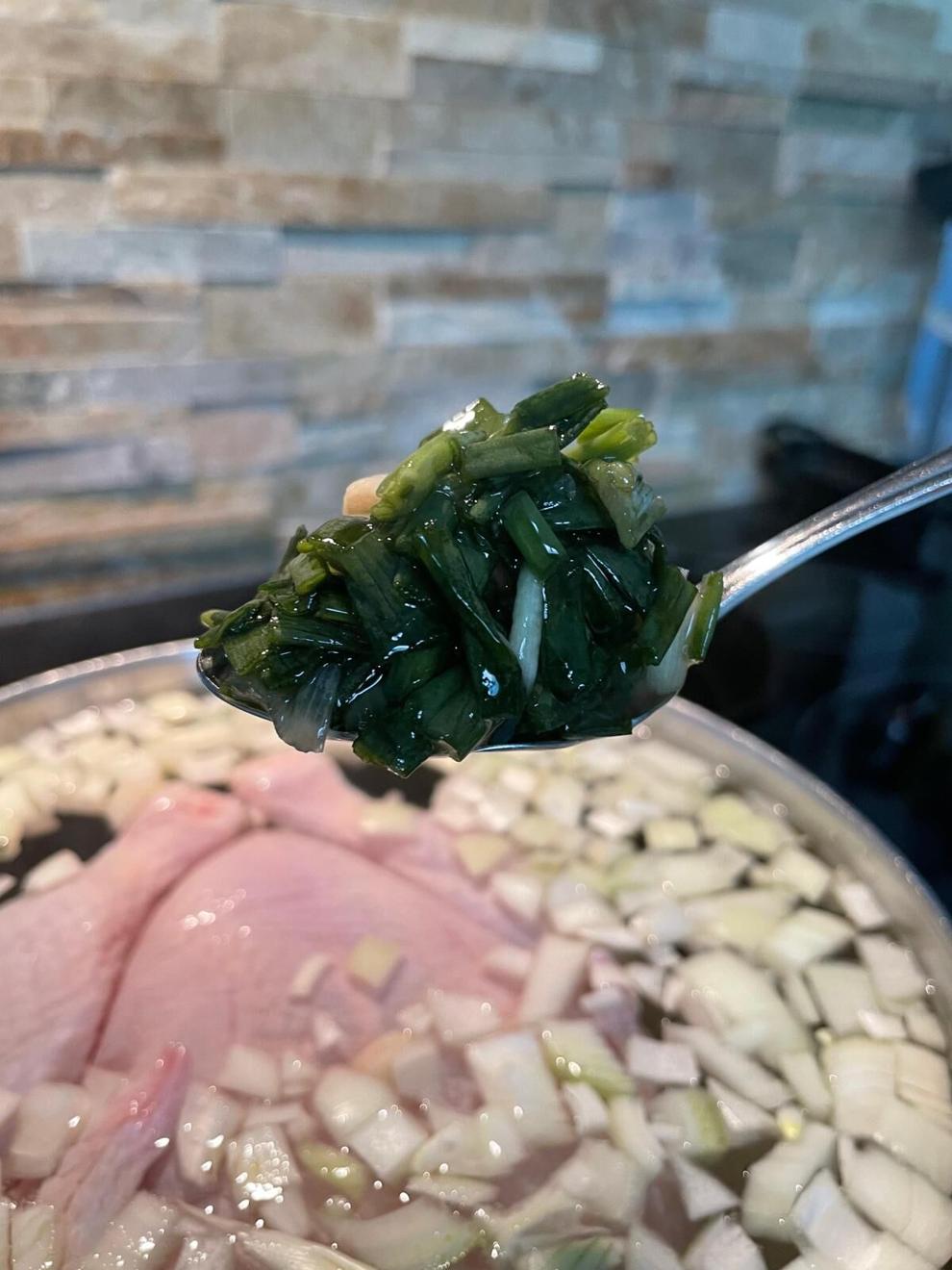 Some like their râpure thick. Others like it a little runny but most agree the crust is a must — and everyone has a trick for achieving it. Doucet's is to dot butter on top before baking.
One ingredient most Acadians agree on is to use a store-bought potato block which consists of potatoes that have been grated, dewatered and frozen in packaged blocks. The word râpure comes from the French word râpées, meaning grated, and often refers to your knuckles when not using the packaged potato blocks.
These processed blocks are not readily available outside of the Acadian regions of Nova Scotia, New Brunswick and Prince Edward Island.
Do not let this deter you — if you have access to a juicer, it will do the trick of grating and de-juicing your potatoes. No juicer? A food processor will speed up the grating process. If you are feeling adventuresome, you can use a tightly closed cheesecloth sack and your washing machine's spin cycle to get the water out.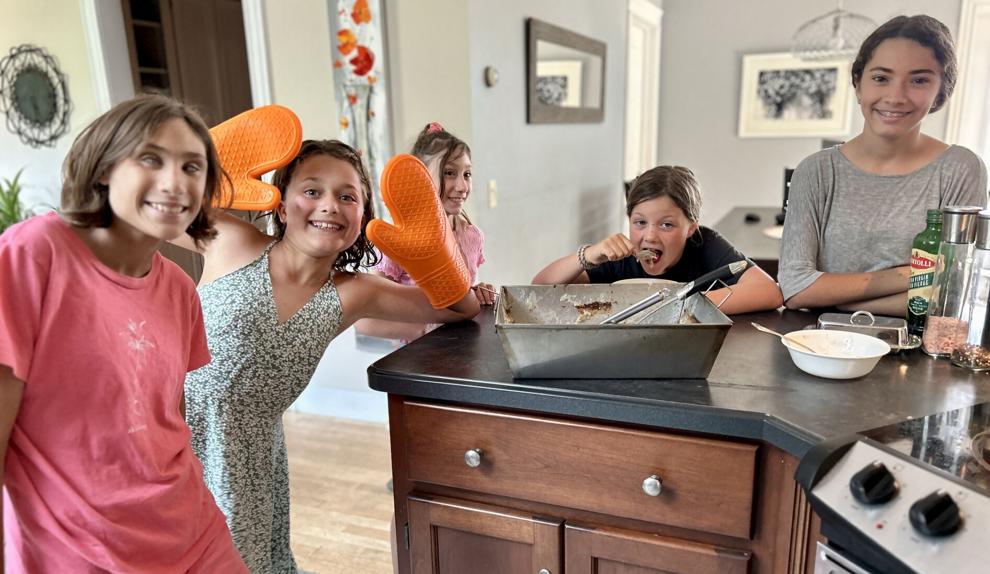 Another option is to invite friends to come over and bring along their favorite hand graters. After all, this is a dish best made with a helper or two — even if using a potato block — since at various steps, it is not only helpful but more fun to have an extra hand in the kitchen.
I was Doucet's extra hand, helping her count the cups of broth I poured as she stirred into the potatoes. Her broth is flavored with summer savory, black pepper and salted green onions in lieu of salt.
Salted green onions are an old Acadian way of preserving fresh green onions to be used throughout the year to add a flavorful saltiness to various dishes. Doucet described the simplicity of making them: chop the onions, add salt, pack them in a jar and start using them the next day. I will surely be adding this to my flavor collection and trying them out in my next court bouillon or étouffée.
We ended our visit to the Acadian region of Nova Scotia with a visit to Grand Pre, a national historic site encompassing some of the original lands farmed by Acadians. The day we visited was coincidentally "Louisiana Day."
Louisiana's Les Amis du Teche played music for the Cajun dance lessons and lunch was served — gumbo — on a hot day in July. I laughed at myself as I stood in the lunch line and mused about our minor mutual misunderstandings involving when to eat what.
Râpure
Serves 10-12. Recipe is by Louann Doucet.
3 onions, chopped and divided
1 whole chicken
2 heaping tablespoons salted green onions (see recipe that follows), or salt to taste
Black pepper to taste
2 tablespoons summer savory
5 quarts water or enough to cover chicken completely
10-pound bag of white potatoes, peeled
4-6 tablespoons butter, divided
1. In a large pot combine 2 1/2 chopped onions, chicken, salted green onions, black pepper and summer savory. Add enough water to cover the ingredients. Bring to a boil then keep at a low, rolling boil until the chicken is cooked — about an hour.
2. While the chicken is boiling, grate the potatoes with a fine grater or run them through a juicer. If grated, strain the finely grated potatoes through a cheesecloth to thoroughly remove the potato juice. If using a juicer, reserve the potato pulp. Put the resulting potato pulp in a large bowl.
3. Preheat the oven to 450 degrees.
4. Thoroughly grease a 14-by-10.5-by-3.5-inch roasting pan (or similar-sized pan) with 2-3 tablespoons butter.
5. Once chicken is cooked, remove it from the broth to cool while keeping the broth hot. Debone the chicken, shred the meat and cut into bite-sized pieces.
6. Bring the broth back to a boil, then gradually add 10-14 cups of the boiling broth to the potatoes stirring continuously with a large whisk for the first several cups then transitioning to a large, slotted spoon to finish mixing the broth into the potatoes.
7. Spread half of the potato mixture into the greased roasting pan. Layer the chicken over the potato mixture and sprinkle with remaining chopped onions. Spread the remaining potato mixture over the chicken. Dot the top layer with the remaining butter cut into small chunks.
8. Bake the pie for one hour at 450 degrees. Reduce heat to 350 degrees and bake for two more hours.
9. Remove from oven and let rest at least 10-15 minutes before serving.
Salted Green Onions
Yields about one pint jar full of salted green onions to be used as a condiment.
Recipe is by Louann Doucet
1 bunch green onion tops, sliced to 1/4 inch
2-4 tablespoons coarse salt
1. Place chopped green onion tops in a bowl, sprinkle generously with coarse salt and let sit overnight.
2. Store the salted green onions and their resulting liquids packed in a canning jar in the refrigerator.