On May 19, 1973, the day after he walked across the stage to receive his diploma, RL McCrae sat down at his desk in the Corrie Journal to launch his career. Now, as a sports editor and columnist for The Journal, he's celebrating his 50th anniversary in the industry.
Some people, such as doctors, lawyers, and insurance agents, display certificates and shields on their office walls. In true McRae fashion, his desk was left with a roster of athletes and a sea of ​​memorabilia from a fulfilling career that never ended. Even though he pays special attention to people in his articles and columns, he himself does not like to be in the spotlight.
"I want everyone to look like they're important to some degree," he said. "Everyone has 20 seconds of fame. I got it when I was the wrestling writer of the year at Hershey Park Arena and I was able to stand in front of a crowd with a big shield." rice field."
"My nameplate is over there in the cupboard," he said with a breath, gesturing vaguely to the corner where the ladder stood in front of the cupboard.
His pride trumps any achievement. He revels in the fact that he loves his job, citing the adage, "Never worked a day in his life."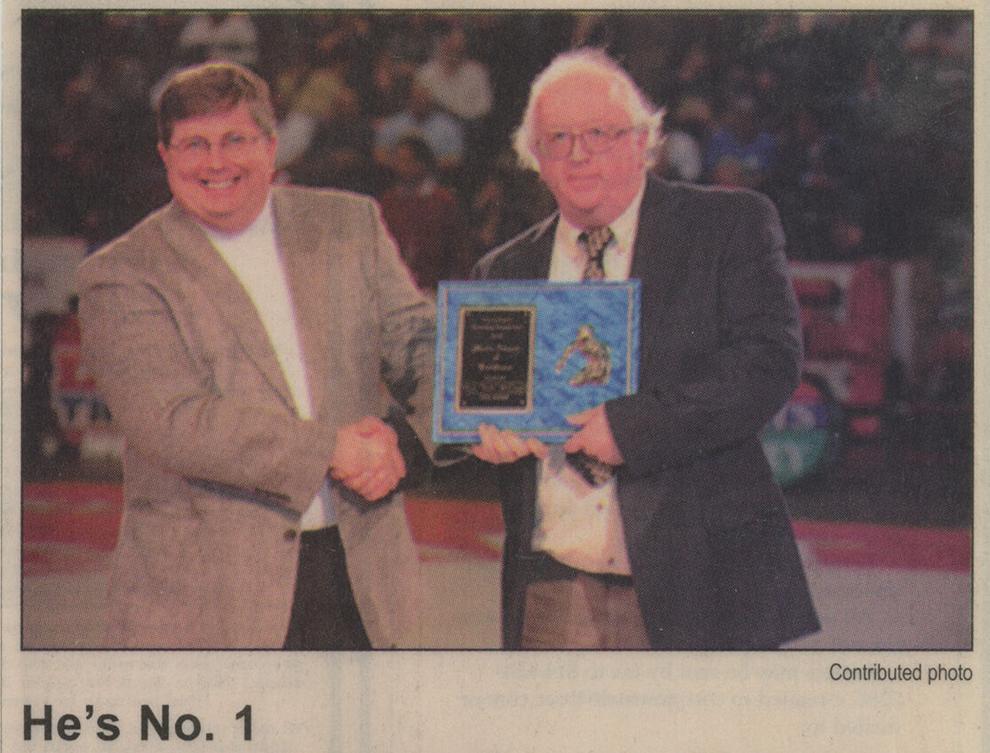 It was on the Little League field that he first found his love for sports.
"I had some ability, but I wasn't a great player," he said. "So I thought I couldn't do the sport. I realized someone had to cover these things, so it could be me too."
Since then, he said, he's immersed himself in sportswriting as far as ink goes. Born in Colley in 1951, he attended Wright Street Elementary School all his life and played football under legendary coach Lou Hannah. He was a basketball statistician and sports editor for a school newspaper called "Beaver."
He attended Point Park College (now the University) in Pittsburgh, earning degrees in journalism and mass communications. There he played soccer for his three years, wrote for the school newspaper Pioneer, and broadcast Point Park's basketball games on radio and television for two years.
When he came to The Journal in 1973, the staff featured Dan McEldany, Bill Eaton and Birdie McMichael, and published it six days a week, including Saturdays.
Famous interviews he cites include Tom Ridge, Satchel Page, Randy Johnson, Tommy John and more.
He left the journal from 1987 to 2006, when he worked for the Warren and Erie Times News.
In 2006, he said, publisher George Sample and general manager Bob Williams convinced him to return. Sample named McCrae's column "Home Again" in honor of this.
McCrae fondly recalls memories with Sample and other press workers, particularly the three or four years when the Journal faced radio stations in a massive bowling tournament at Bowlair Lanes.
The camaraderie in the newsroom was strong.
But when he first got the job, journalism was a very different ball game than it is today. McRae recalled going into the house, typing up articles on a typewriter, and sending them downstairs, where someone would make punch tapes to operate the leadsetter.
Once everything is machine punched into place, they send the proofs back to the copy editor, who looks at the pages and sends back the edits. The press man may move set types if there is a change.
In McRae's opinion, technology has changed the most.
"The biggest change in the last few years is streaming," he said. "I can go to the event and I have a nice article in the newspaper tomorrow, but someone said, 'Well, I already saw the game on stream.'"
Dejectedly, after years of working in the trenches, the reporter has something video cameras don't: a passion for games.
He said he loved every season and every sport. He recalled that people had consulted him on his own writing.
"Somebody said, 'I went to that softball game last night.' I didn't realize how exciting it was until I read your story," he recalls.
With fast-paced sports terminology and intricate detail, McRae covers all the basics and some more, capturing the energy of the game between the lines of the type.
After years of working in this field, he said his greatest weapon is talking to people and listening to what interests them.
He said he's trying to put the spotlight on everyone, not just the stars.
"Maybe this guy wasn't the best player, but he hit one in the seventh inning when everyone else was scoring," he said.
Another upheaval in his career happened in the sports industry.
"When I started, women's sports didn't exist," he says. "They were just getting started. It wasn't a big deal, and it wasn't as sophisticated as it is now."
But things came full circle when McRae's most memorable collie sports moment was covering the 2016 Women's Volleyball State Championship. In women's volleyball, they defeated Northeast in the PIAA semi-finals to make a comeback and face North Star for the championship.
McRae recalled the Pitt Johnstown gym was packed and the whole venue gasping with the ebb and flow of the match. The first set was won by the opponent, and the second set was won by Cory.
McRae said everyone knew the team was good, but always expected it to be too good to be true and one day it would break.
That match was not. The volleyball win became the first team state championship win in any sport in Colley's school history.
McCrae has covered several state wrestling tournaments in Hershey, as well as the state softball championship final when Cory was playing in Shippensburg.
Generations of families can now look back at McRae's scrapbooks of his parents' sporting event coverage. Meanwhile, there were several years when Mr. McCrae was so fascinated by his craft that he didn't take advantage of his vacation.
To say that McCrae is a source of inspiration seems trivial to a young reporter in his former position.
Every day, camera in hand, he flies from event to event, talking to everyone nearby and taking notes about the game. He now can't imagine life without sports coverage and enjoys it. However, he has one goal.
"That said, the goal would be to finish it on time," he said.