Fargo — if
Pounds is dialing into a new location along Broadway in downtown Fargo.
Known for its unique fare such as mac and cheese, the restaurant applied for and received a building permit at 6 Broadway, just south of Old Broadway. The location previously housed Broadway Antiques, which closed in 2014, and his Revland Gallery and Cultural Events Center, which closed in 2018, serving as the space for the Fargo-Moorhead Community Theater.
Entitled "Pounds Fit-Up," the permit calls for renovations to transform the building's main level into a restaurant and the lower levels into cooler storage. The cost is listed as $800,000 and the total building area is 6,390 square feet.
The forum made several attempts to contact Pound Owners regarding the project but received no response. has informed the forums that the project is not ready for public discussion.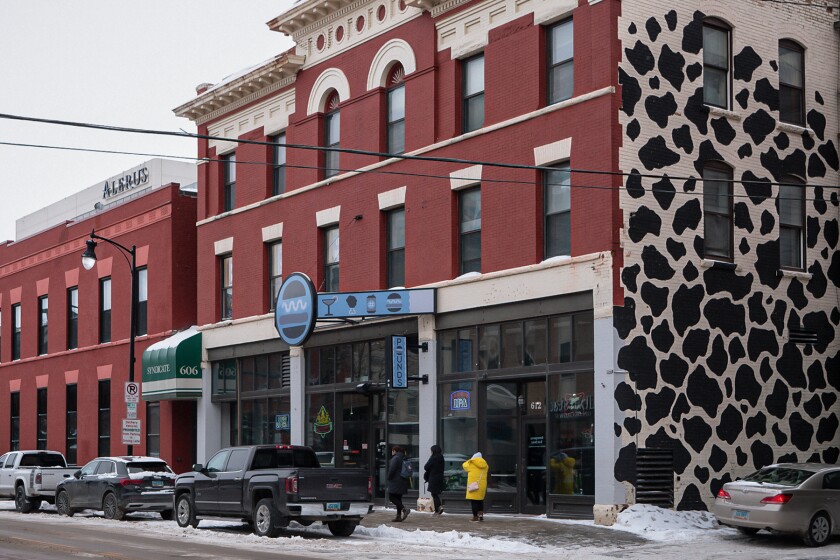 Pounds opened at 612 1st Ave. N. in June 2015.
Gained national notoriety when Guy Fieri visited
2020.
FMWF Chamber of Commerce Announces Temporary Headquarters
Fargo Moorhead The West Fargo Chamber of Commerce will move Tuesday, February 21, from its current office in the Yemkomst Center in Moorhead to a temporary office in the Cass County Electric Cooperative Building at 4100 32nd Ave. S. Fargo. Announced to move. .
According to a Chamber of Commerce press release, since 1998, the Chamber has operated as a joint entity serving the entire Fargo-Moorhead area.
"The Chamber of Commerce is extremely grateful to the City of Moorhead for their support and continued partnership," said Shannon Full, president and CEO of the Chamber of Commerce, in a statement. "We need to move the Chamber because we are making great strides as a region and as we increase capacity we need more space."
After the Chamber sent out a formal RFP in November 2021 regarding the need to identify or build a new permanent location,
Chamber of Commerce selected proposal to co-locate on same site with FM Convention and Visitors Bureau
(FMCVB) will build a business and commercial center. The Chamber of Commerce continues to work on the project and will enter the next phase, including a donor review of the project and a formal capital campaign.
Gen Z is reinventing corporate terminology
When it comes to workplace jargon, one person's "synergy" is another's "sus."
Especially when there are different age groups.
Generation Z, defined as those born between 1997 and 2012, are bringing their own branded communications to the workplace.
And as conversations continue to shift to online and text-driven means, Gen Z digital natives use communication styles that are causing confusion among older workers and millennials.
A recent article in The Washington Post illustrated this by sharing true stories of how Gen Z (a.k.a. "Zoomer") workers interpret common phrases in the workplace, explaining their unique terminology. I also added a collection.
During the talk, the young woman and her co-workers chuckled after receiving an email that some co-workers were "out of their pockets."
For older workers, the phrase means that those employees are unavailable. But for younger employees, it meant they were doing something crazy or inappropriate.
While older employees are more likely to use tropes in their work jargon (military, sports, etc.), Zumers are more likely to use terms that have permeated TikTok and younger forms of social media. increase.
So instead of "keep your feet on the ground" or "reinvent the wheel," use familiar phrases like "you killed it" (good) or "I'm dead" (also good). You may hear phrases without
Based on a survey of 1,000 people by Preply, this chart shows the top 10 words or phrases you're most likely to hear or read from your zoomer co-workers.
Warning: Just because some of these phrases are supposed to be positive doesn't mean they aren't ironic. So if Gen Z is suggesting that the office party "lights up," it might not be a good thing.
Oh, and brush up on your emoji knowledge, too. If you send a text message ending in a period to your younger employees, they may actually read it as passive-aggressive, callous, or formal. The same goes for the barely smiling smiley face emoji. And don't even get me started on what goes wrong with ellipsis…