Clark County – More than 80 businesses gathered for a busy morning at the Vault+Tie Building in downtown Clarksville on Friday.
Thrive Floral Studios is brimming with beautiful, fragrant flowers as they work on arranging multiple weddings for Tammy Hayden and Amy Goforth this weekend.
A few doors down, Ashley Thomas is preparing to open a smoothie and tea shop, Fit Life Nutrition, right next to the building's lobby. As she was getting ready for customers, someone rented out her space, the last available coworking in the building for the day.
All three women agree that the southern tip of Clark County is a well-established economy. Didn't expect that to happen in this area.
Cornerstone Group, one of Southern Indiana's largest landowners, manages Vault + Tie and Water Town Square, right across the city line from Jeffersonville.
Corey Horne, president of Cornerstone Group, said he grew up spending time in the area and is excited about all the developments that are taking place now that some are abandoning office space in favor of working from home.
"There are definitely changing factors and demographics changing about what kind of office demand there is, but I think the flip side of that is people still want to be together," Horn said. said. "So the future of work is not just jobs, it is this mixed-use, mixed-income, mixed-activity district that brings people together for all kinds of different uses."
That's exactly what is being planned and built at the southern end of Clarksville. Vault + Thailand, 1400 Main St., is just the first property to open. More facilities are currently under construction.
"Southern Indiana has always been a gathering place for small businesses and service-oriented businesses and people," Horn said.
He applauds the town of Clarksville for creating a vibrant mixed-use community that offers more than just a traditional office park feel. He said the roads in the area are designed to encourage people to get out of their cars and walk out into the community.
The Cornerstone Group started in the early 90's in the area of ​​Vault + Tie and Water Town Square, renovating buildings in the area and turning them into meeting spaces.
At that time, he said, "it was totally unthinkable" that the area would turn into the mixed-use development that is now flourishing.
"We were on the island for a long time and nothing was happening around us. So when we first renovated the building in the early 90s, we did it as office warehouse space. We assumed there would be warehouses." Behind the scenes, that was the demand here," Horn said.
Then the demand in the area changed and people started developing a more neighborhood style. The pandemic helped accelerate demand, Horn said, but it was already there when Bolt + Tie was envisioned.
The facility currently has 83 office suites and tenants include counselors, hair salons and financial services firms.
"When we built that building, it was about being a hub for entrepreneurship, a place where people could take risks with new ideas, or get out of the kitchen or dining room and create a more professional environment. It was meant to be a place where people can connect," he said.
That's what's happening at Thomas' Smoothie Shop. Her husband runs a barber shop at Vault+Thai, and she also runs two of her Air BnBs in the building.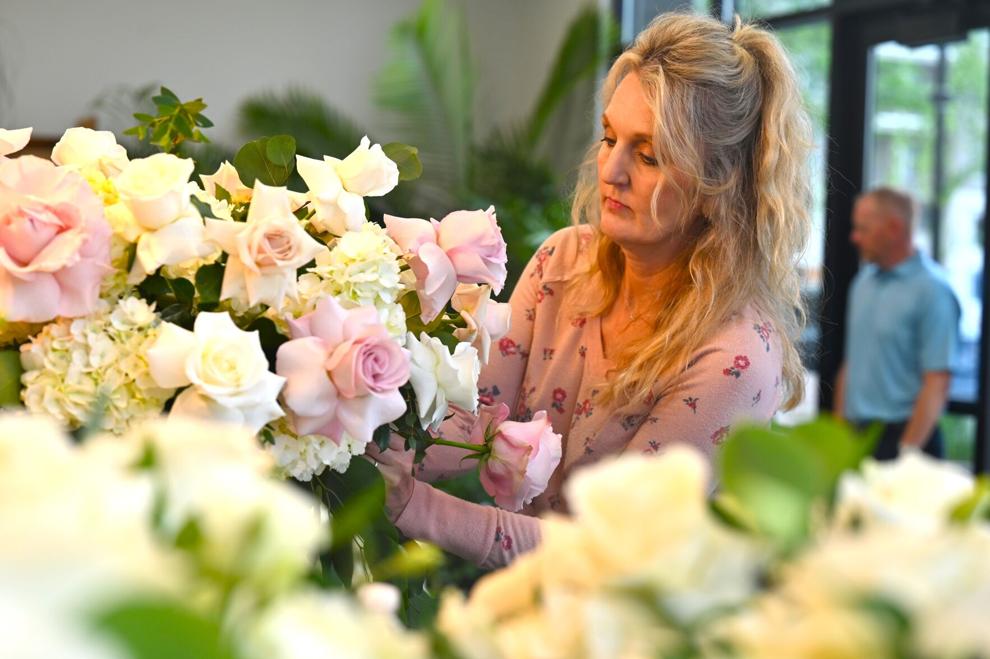 "This is what the area needs. We've never had anything like this in Southern Indiana," Thomas said. "Before, you had to go to Louisville to do anything. I like it. People like it."
Hayden said the flower shop has been in the building for the past two years. Volt+Thai will open in 2021.
"I like it because it's an evolving field," she said. "And with the new construction, I think the growth will be phenomenal."
The store's business has already increased thanks to the number of customers.
"Since construction, walk-in business has increased by 30 to 40 percent," Hayden said.