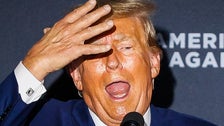 A former federal judge is sounding the alarm on the Republican Party under Donald Trump ― and warned on Wednesday that the GOP's problems could threaten the nation as a whole.
J. Michael Luttig, once a favorite of the right for his conservative legal opinions, last year testified to the Jan. 6 committee that the former president was a "clear and present danger" to the nation's democracy.
He said on CNN on Wednesday that it's even more true today as Trump persists with false claims about the 2020 election and Republican officials have joined him in making those claims.
"These false claims have corrupted American democracy," he said. "They've corrupted American elections, and they've corrupted the perception of the American people in America herself."
And, he said, they've wrecked the Republican Party.
"American democracy simply cannot function without two equally healthy and equally strong political parties," Luttig said.
Today, he said, there is no Republican Party.
"And for that reason, American democracy is in grave peril," he said.
Luttig said a party involves "shared beliefs and principles and policy views" about the nation.
"Today, there is no such shared set of beliefs and values and principles or even policy views within the Republican Party for America," he said.
Luttig is co-chair of the American Bar Association's newly announced Task Force for American Democracy, which aims to ensure that election administration remains nonpartisan and educate Americans on "on the importance of an inclusive, strong, and enduring democracy."
See the full discussion, where he also dispenses with the arguments being made by Trump's attorneys, below: