Lt. Gov. Winsome Earle-Sears made history two years ago when she became Virginia's second woman — and first Black woman — elected to statewide office.
In her newly published memoir — "How Sweet It Is!"— she reflects on her life and her evolution in faith and politics.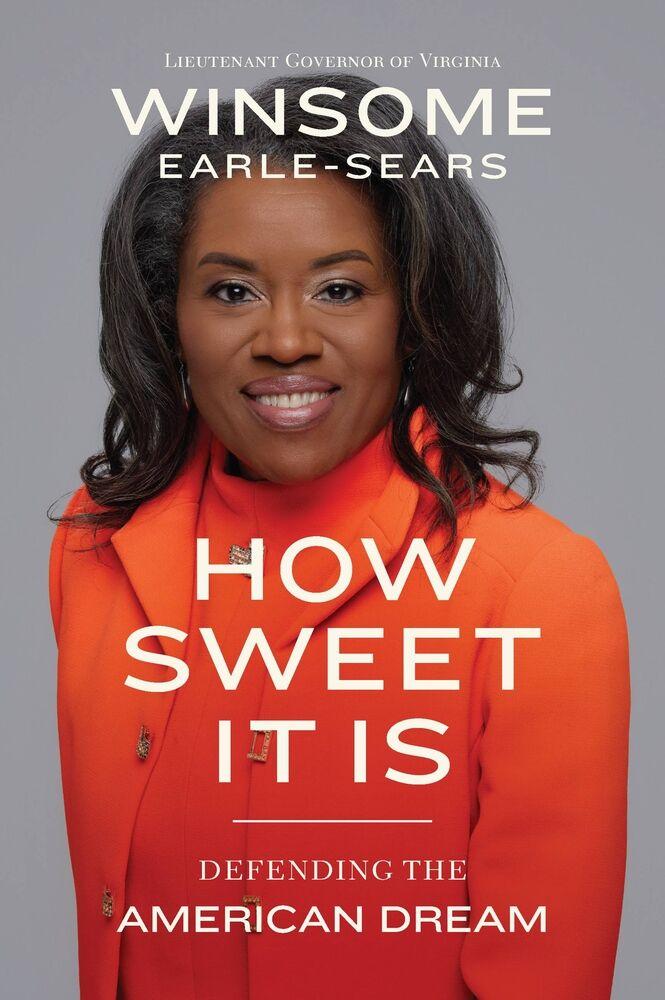 It wasn't easy to reflect on some of the hardships along the way — from losing a home to foreclosure after an old Marine Corps back injury flared up, leaving her unable to work, to a far greater loss, when her oldest daughter and two grandchildren were killed in a 2012 car crash.
"It's very hard because it's a life of tragedy, of rising from the ashes, but I think also a life of hope," she told The Times Dispatch in an interview ahead of the book's publication.
Earle-Sears, who was born in Jamaica, writes that when she was 18 in 1982, the death of her grandmother had her feeling hopeless and directionless before she joined the U.S. Marines — setting her on a path to becoming a naturalized citizen who would later run for and win elected office.
While in the Marines she trained to be an electrician and a diesel mechanic. She also gave birth to her first daughter, DeJon.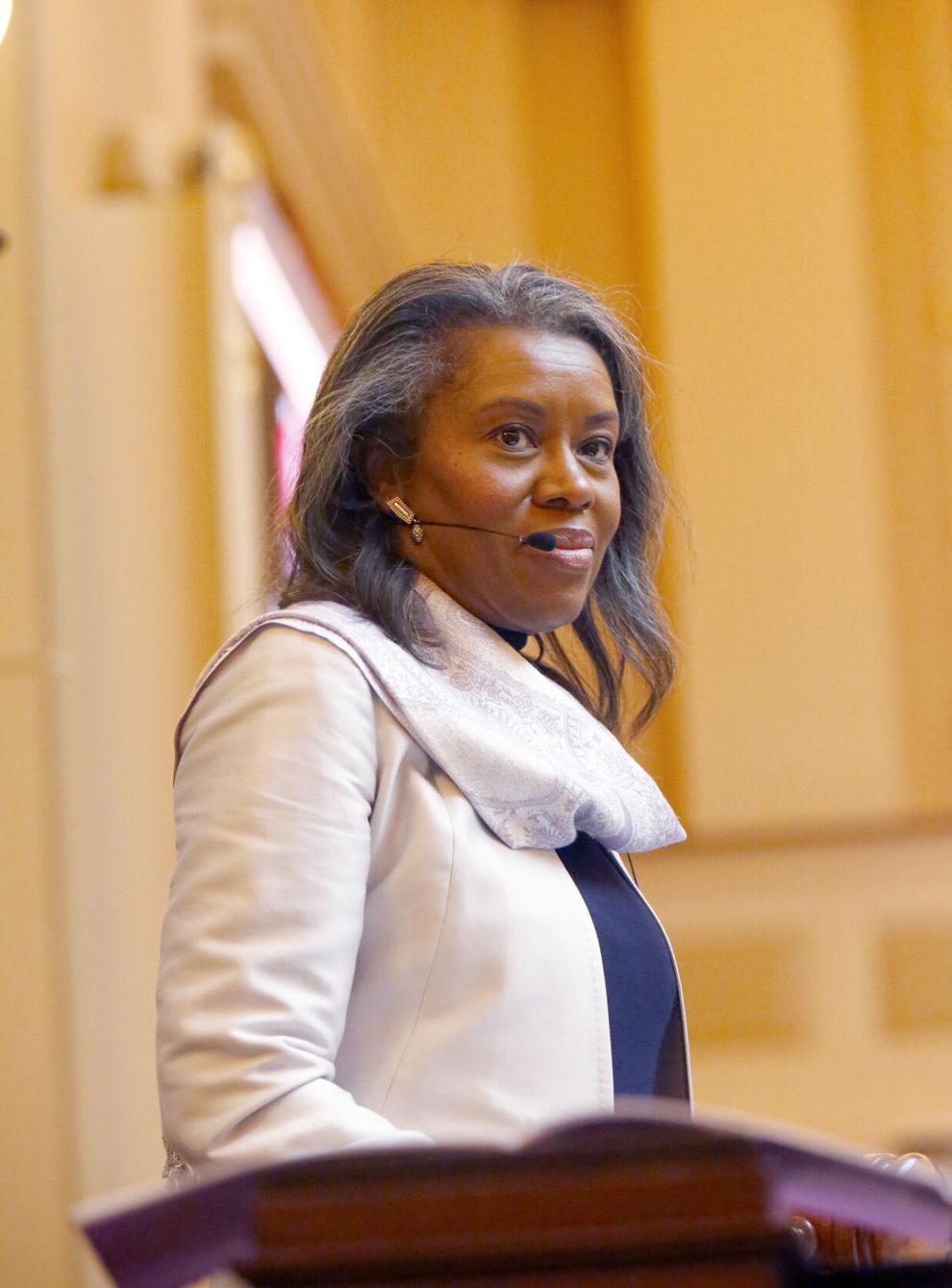 Juggling her military career as a young single mom was a triumph and struggle. Once was out of the Marine Corps, she gained a supportive husband, Terence Sears, a Marine Corps officer, who adopted DeJon. The couple would have two additional daughters.
In a richly eclectic career outside politics, Earle-Sears would work as director of a homeless shelter, sell used cars, work as a program manager for the Hampton Roads Chamber of Commerce, serve as CEO of the Blue Ridge Association of Realtors, own and operate an appliance repair, plumbing and electric company and write a book called "Stop Being a Christian Wimp!"
She served a two-year term in the House of Delegates after knocking off Del. Billy Robinson, D-Norfolk, a 20-year veteran, in 2001, to become the first Black female Republican elected to the House. In 2004, she took on Rep. Bobby Scott, D-3rd  but received just 31% of the vote.
Before her history making run for lieutenant governor in 2021, Earle-Sears served on the State Board of Education as an appointee of Gov. Bob McDonnell and mounted a 2018 write-in campaign for U.S. Senate, trying to offer an alternative to Republican nominee Corey Stewart. (Sen. Tim Kaine, D-Va., easily beat Stewart.)
Faith and tragedy
Earle-Sears is a devout Christian and she writes in the book about messages from God at key junctures in her life.
"God is a consuming fire for me," Earle-Sears writes. "When He speaks to me, He speaks to me. I will not deny this."
Her faith is a prominent part of her life and it comforted her when her eldest daughter, DeJon and two granddaughters, Victoria and Faith, died in the Fairfax County crash. Earle-Sears writes that her eldest daughter was bipolar and subject to "extreme highs and extreme lows" that got worse when she did not take her medication.
Earle-Sears writes that she and her husband had raised the grandchildren for nearly seven years. Once DeJon "seemed permanently stable," Earle-Sears writes that she wanted the children to stay mostly with their mother, as she did not want to come between DeJon and her young children. The children went to live with their mother in early 2011.
Reflecting on the 2012 tragedy, she writes: "You ask yourself: 'What could I have done? What could I have done? I just did not comprehend how bad it was."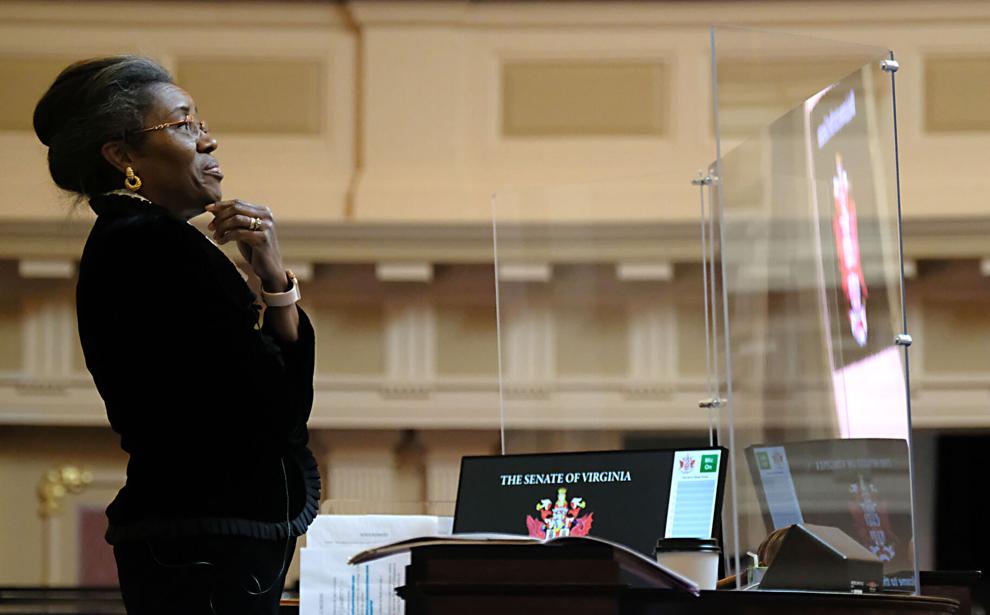 The experience also drove home the importance of mental health reforms, she said, pointing to efforts the state has made in recent years to expand resources for patients and workers in the field.
"Nothing is perfect, but it's a start," she said.
Her memoir oscillates between personal, professional and spiritual as Earle-Sears recounts key points in her life where she faced struggles or personal and professional growth.
At times it also takes the tone of a self-help book as Earle-Sears offers readers encouragement on education, work ethic, and Christian devotion.
Earle-Sears writes that her service in the Marine Corps reinforced a lesson she had already learned from her family: "There is no such thing as 'can't.' "
At another point she advises readers on taking an active part in developing their skills. "Life waits for no one," she writes. "Either you are ready or you are not."
She recounts a childhood and adolescence spent between Jamaica and America. Her mother remained in her home country while her father immigrated to New York in 1963 amid the push for equal rights in a segregated America.
"Defending the American Dream" is the secondary title to Earle-Sears' memoir and throughout the book, she stresses how education can "lift people from poverty." She cites her father's immigration story as an example — he came to America with $1.75 she said, and went on to become a mechanic and welder for airline Pan Am. He worked on jet engines at JFK airport in New York. Her father is now comfortably retired in Georgia.
There are times things haven't been easy, but she said: "I just want my life to be an encouragement."
Here are a few other takeaways from Earle-Sears' memoir:
A 'Trekkie':
A self-described "huge Star Trek fan," she recalls seeing herself in the character of Lt. Uhura, a communications officer on the Enterprise — not just because she was a Black woman on television in the late 1960s, but also because the Black and female character played a prominent role in the fictional crew.
Earle-Sears appreciates the gender parity the various "Star Trek" shows and movies have demonstrated, and it's something she believes she experienced herself in the U.S. Marines.
Plus, Uhura was a character known for her intelligence. Education has been a lifelong passion for Earle-Sears, who has degrees from Tidewater Community College, Old Dominion University and Regent University.
On education:
Earle-Sears remembers excelling at her courses when she moved to America as a child.
"There were no 'nerds' back in Jamaica," she writes. "We were all competitive bookworms."
A thirst for education continued in her adulthood as she learned trade skills while serving in the U.S. Marines, and juggled earning college degrees as a working mother.
During her term as a state delegate, she pushed for charter schools — and school choice is a cause that she and Gov. Glenn Youngkin continue to champion.
As Democrats have argued for more investment in K-12 public education more broadly, Earle-Sears supported a bill from Del. Glenn Davis, R-Virginia Beach that would have created a voucher system for parents to send their children to a school of their choice. She hopes the bill can succeed in the future.
"(Parents) don't want to be limited by their ZIP code," Earle-Sears said in the interview.
A Black Republican
Earle-Sears writes that she had long assumed she was a Democrat, having spent a good portion of her youth in New York, where that political alignment was common. When she was in her early 20s, she began to pay more attention to politics and the role the government played in people's lives.
During Vice President George H.W. Bush's 1988 presidential campaign, his conservative stances on lowering taxes and reducing abortions appealed to Earle-Sears.
She writes that the political turning point in her life came when she heard Bush say: "If all you ever have is welfare, you will never have anything to pass on to your children."
It stood out to the young mother.
"I felt my soul agreeing with him," she writes. "It is our duty to do more for our children. With welfare, we possess only up to the limits of the government's checks."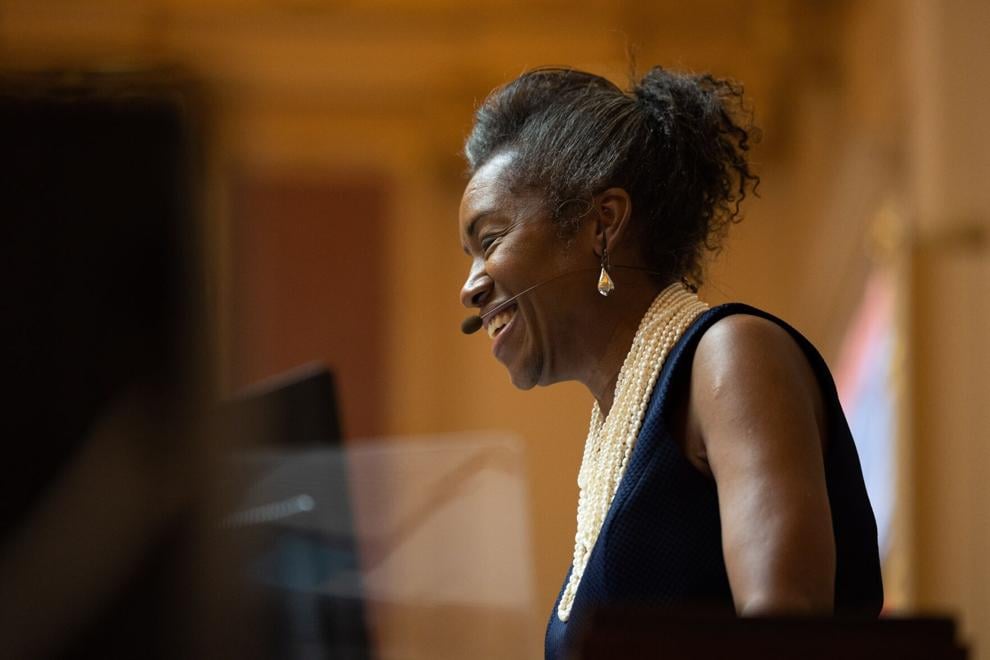 She writes that it was an epiphany: "I said to myself: 'Oh my God, I'm a Republican."
She jokes now that her daughters now call her "cheap" and she calls herself "frugal."
As she is a firm believer in the American Dream ethos — that hard work is the key path to prosperity — she writes that the Republican Party started to confirm her approach to life.
As she got more involved in local and regional politics, she writes that she initially wanted to work behind the scenes.
"I never particularly wanted to be a politician," she writes. "I wanted to be the person behind the politician. But God had other plans."
By 2021, she had become frustrated by two Democratic administrations, the Blackface scandals during Gov. Ralph Northam's term, and the Northam administration's COVID-19 policies such as school closures and restrictions on businesses and churches.
(At the time of her campaign, Earle-Sears refused to disclose her vaccination status during her campaign, but she did encourage people to get vaccinated). 
Earle-Sears topped five rivals to win the GOP nomination for lieutenant governor then edged Democrat Hala Ayala in the general election.
Earle-Sears writes in the book that Moses returned after 40 years and that she returned after nearly 20 years out of elective office.
"Just call me 'Little Mo.' "
Throughout the book Earle-Sears chafes against expectations that Black voters should be Democrats.
"Not all feel this way, but some Black Democrats have appointed themselves leaders over us, and if you don't keep in line, then they are going to cast you out," she writes. "Well, too late. It's a healthy thing for Black people to be on both sides of the political spectrum."
Early in the book, Earle-Sears writes that as a Black woman in the former capital of the Confederacy she is proud to stand as "second in command" in a state that gave rise to George Washington, Thomas Jefferson and James Madison.
"I am a Virginian," she writes.
The phrase recalls the closing line from the inaugural address of the nation's first elected Black governor. In January 1990 L. Douglas Wilder had proclaimed: "I am a son of Virginia."
In November 2022, two days after the GOP failed to make sweeping gains in Congress, Earle-Sears publicly broke with former President Donald Trump, telling Fox Business that it was time for the GOP to move on.
In the book she reflects on her stint as national chairwoman of Black Americans to Re-elect the President PAC.
"You had to think, well, even if you don't like the man's personality, he's getting the job done," she writes. "We wish that he had just kept quiet."
Earle-Sears writes that while she backed many of Trump's policies, she could not countenance his personal insults toward others.
She also condemns the rioting by Trump supporters at the U.S. Capitol on Jan. 6, 2021 in an effort to block Vice President Mike Pence from certifying the election results.
"I did not agree with those methods whatsoever," Earle-Sears writes, "and I thought the people engaged in them were unhinged."
In sum, she writes: "For the good of the nation, I do not think he should run again in 2024."
The campaign trail gun photo:
In the book Earle-Sears refers to a 2021 campaign photo in which she holds an assault-style weapon.
It was not staged, she asserts but stemmed from an impromptu campaign trail stop at Clark Brothers Range in Warrenton when she was en route to another event.
"I put on a green coat to keep the spent gunpowder blowback off my blouse," she writes. "When you look at the photo taken there, you can see that I still have my earplugs in. Nothing staged there."
She did go on to post a series of photos to Twitter with a promise to not support red flag laws — which are when courts can grant temporary orders to remove firearms from people who appear to pose a threat to themselves or others.
Meanwhile, the Twitter images went viral. To her supporters, it was a clear demonstration of her promise to support gun access. It also drew pushback from advocates and legislators (mostly Democrats) who advocate for restrictions aimed at public safety.
On whether she will run for governor:
Earle-Sears and Attorney General Jason Miyares are often mentioned as likely candidates for the GOP nomination for governor in 2025.
Will she run? No solid answer just yet.
As Youngkin has said when asked if he will run for president, Earle-Sears asserts she is focused on this year's General Assembly elections.
"What I've been consumed with since (the 2023 legislative session) was over is winning back the Senate," she said.
Republicans currently have a majority in the House of Delegates, while the Democrats have the majority in the Senate — where Earle-Sears presides.
All 140 seats are up for grabs in November. with a handful of competitive districts key to each party holding the line or gaining the majority of each chamber. 
Both parties push for early and absentee voting — the Democrats with Project Majority and the Republicans with Secure Your Vote Virginia. Earle-Sears ended her chat with The-Times Dispatch with a familiar call to action.
"We have to win absentee ballots, we have Secure Your Vote," she said. "We believe in our system. We have a great voting record here and we've just got to increase it."