The most important asset to a shop is its people — from parts to prepper to production and beyond, according to Jeff McFadden, former president of Service King.
A focus on employee retention and recruitment, especially of repair technicians, has been a common theme in the collision repair industry as it continues to grapple with a tech shortage due to retirements and not nearly enough new techs coming out of the education pipeline to fill the demand.
McFadden spoke to Repairer Driven News about what shops can do to create a shop culture employees want to be a part of. He also spoke on what it's like to return to his roots from heading up a large MSO to Harvey's Collision Centers, which he called a small MSO, and what he's learned along the way. Harvey's is a family-owned group of shops with less than five locations.
Understanding all aspects of how the business operates is key when running shops, McFadden said.
"When you don't understand the implications of some of your actions it can be detrimental on the teammates and it can be detrimental on the environment," McFadden said. "When you understand everybody in that building and the job that they do — parts, production, body tech, painter, prepper, manager, service advisor, the general manager — you can guide the team to success or you can help them succeed and support the leadership."
The Harvey's brand means direct access to ownership, an open platform, and willingness from the owners and leaders to listen, he added.
"I think people want that today," McFadden said. "I think they want to be shown appreciation. They want to know that people care. They want to be part of a good culture because it's not easy work. If you can differentiate yourself in that way, I think it goes a long way, and not to mention, doing great work at the right price — being competitive, providing the right experience."
In fact, the Society of Collision Repair Specialists (SCRS) and I-CAR currently hope to gain some understanding of what collision repair technicians think about working in the industry; specifically, job satisfaction, earning capacity, and other aspects that either encourage or diminish retention. The deadline to take the survey has been extended through Aug. 31.
McFadden said when it comes to communication, it shouldn't be all about the leadership.
"Make sure that you're not just communicating about you, you, you, but really them — what's going on in their life and having a personal relationship with your teammates," McFadden said.
"It's like a really good general manager — they are very critical to the overall success of any location because they're providing tempo, they're setting the urgency, they're leading, they're guiding, they're mentoring… You can have a unique relationship with your customer base. You can provide services that I think not everybody can compete with. And I think you can provide a bit of a boutique experience because you have full control. I know that because I've worked for a really large MSO."
McFadden gave the credit for his leadership style to Eddie Lennox, whose powerful example improved his life professionally, financially, and his life overall from a confidence level, he said.
McFadden worked for Service King for 34 years and while considering retirement, he decided he's too young to leave the industry. That's when he teamed up with Harvey's owner, Jeremy Lennox. The two worked together under Lennox's father, Eddie.
Lennox bought Harvey's in January 2018 from Johnny Harvey whose grandfather, William Harvey, founded Harvey's Paint & Body in 1956. The business has been family owned and operated since the beginning.
For single location shops that are considering expansion, McFadden recommends the first steps are to invest in employees, leaders, and infrastructure.
"There are big bold moves you have to make to be able to give yourself the confidence to open that second or third or fourth location," he said. "That is really critical because you can't do it all yourself. Invest in infrastructure, the best that you can… then just be present with your teammates so you're providing that differentiation and they're saying, 'Hey, look, I see the owner of the business every day, being a part of the solution.'"
An investment in people, such as the techs that make the repairs, is a need that's been talked about for years but the gravity of the shortage has been described in the thousands by the TechForce Foundation. Its most recent tech gap study, released in November 2022, found that 232,000 techs were needed in 2021 across automotive, diesel, and collision but schools were graduating only 42,000. In collision alone, the demand was 35,000 techs while only 4,500 graduated.
A 2022 survey commissioned by the Collision Engineering Program (CEP) indicated that there is a lack of awareness about collision repair careers, although people are open to exploring them. It found just 17% of survey respondents were "very familiar" with collision repair or engineering. The survey revealed that those who were familiar with the industry were more likely to pursue a career within it.
It also found that respondents with less than 10 years of work experience are more likely to switch their careers to collision engineering when compared to others who've worked in a separate industry for more than a decade.
Lennox and McFadden knowing the shop growth playbook gives them the perspective on what Harvey's, as an independent shop, should be, which is like a one-stop shop for the carriers and employees, McFadden said.
"The owner/operator is alive and strong, even though everything you read about acquisitions and roll ups," he said. "There is a real place and a real need with the carriers today with capacity that they are looking for and with such high demand, they're looking for good providers. When you have a solid relationship and a good reputation, and you do the right thing that should all fall into place."
McFadden helped grow Service King to more than 350 in 24 states. He took co-ownership of Harvey's and began as CEO in July.
"Growing up in a family business, spending most of my career being family owned, not private equity owned, I just learned a lot," he said. "It was a lot of fun. I took this year off and did a lot of soul searching and dealt with what I deemed 'the fog of opportunity' because there is a lot of opportunity in the collision space."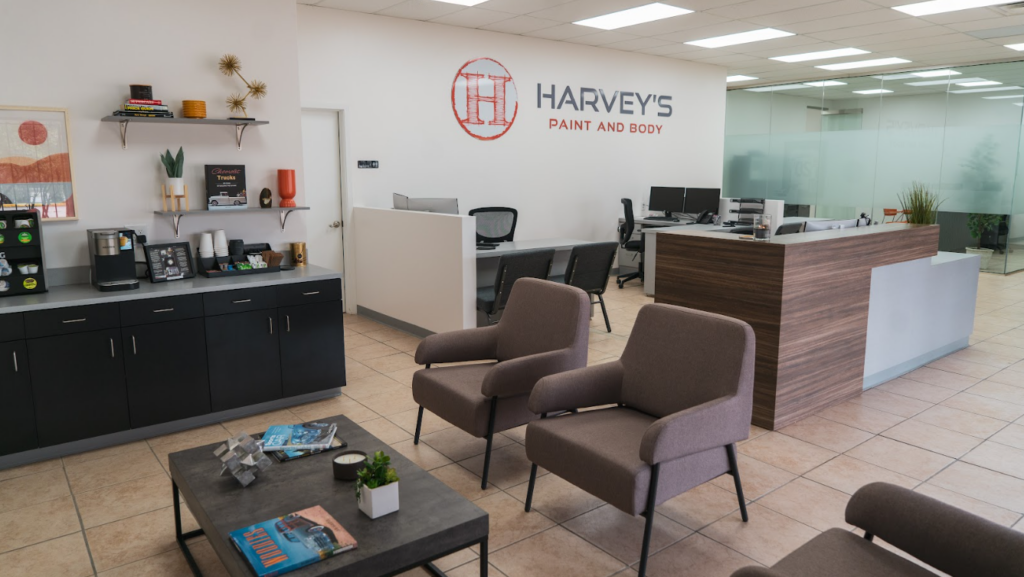 The number of Harvey's shops grew to three in July right as McFadden became CEO. A fourth shop is slated to open by the end of the year and three others are in the works, McFadden said.
"I see people in front of me now today, as an owner/operator, that I am super excited to invest time in because I'm thinking, 'Hey, I owe it to them to pay it forward and to help them' …when you see somebody that wants to be encouraged," McFadden said.
In a news release announcing the new partnership, Harvey's said McFadden's extensive experience in the collision industry makes him a valuable asset to the team, including a career-long demonstration of his "exceptional ability to deliver the highest level of service to ensure customer satisfaction while always maintaining the highest quality standards."
"Jeff's wealth of knowledge and experience in the industry will undoubtedly contribute to our continued success," Jeremy Lennox said. "His commitment to excellence and the customer perfectly aligns with our core values, and we are confident that his expertise will further enhance our reputation as a leading provider."
McFadden said he's honored to be Lennox's partner. "His honesty, integrity, business acumen, and loyalty to his family, teammates, and customers are second to none. Throughout my career, I have admired his commitment to excellence and his unwavering dedication to the ultimate satisfaction of the customer. I look forward to working alongside the talented team at Harvey's Collision Centers and contributing to the company's continued growth and success."
For more information about Harvey's Collision Centers and their services, visit harveyspaintandbody.com.
Images
Share This:
Related