Effective supervision by lifeguards is an important precaution to ensure the safety of patrons. Unfortunately, with limited time for training and continued professional development, it is often overlooked in favor of focusing on rescue and emergency response skills. Understandable, but this situation is not ideal.
Fortunately, there is a growing body of research on the visual, cognitive, and physical challenges lifeguards face in monitoring the aquatic environment, often in challenging conditions.
This online learning module combines the latest research with the practical experience and expertise of Royal Lifesaving Lifeguards and Lifeguard Trainers to cover ground-breaking technical content in a highly engaging and digestible format. provide a learning experience that This module is intended for lifeguards with some experience who are looking to assess and extend their current knowledge and skills and fulfill their professional development obligations.
It will be:
Ask lifeguards to reflect on their previous knowledge, skills and training.
Ask lifeguards to analyze their experience supervising pools and the internal and external challenges they faced.
Define these challenges, familiar and unfamiliar, and explain why they exist.
We offer different strategies and solutions to overcome these challenges and outline different best-practice techniques. Some of them should be known to lifeguards, others are new and can be added to their skill sets.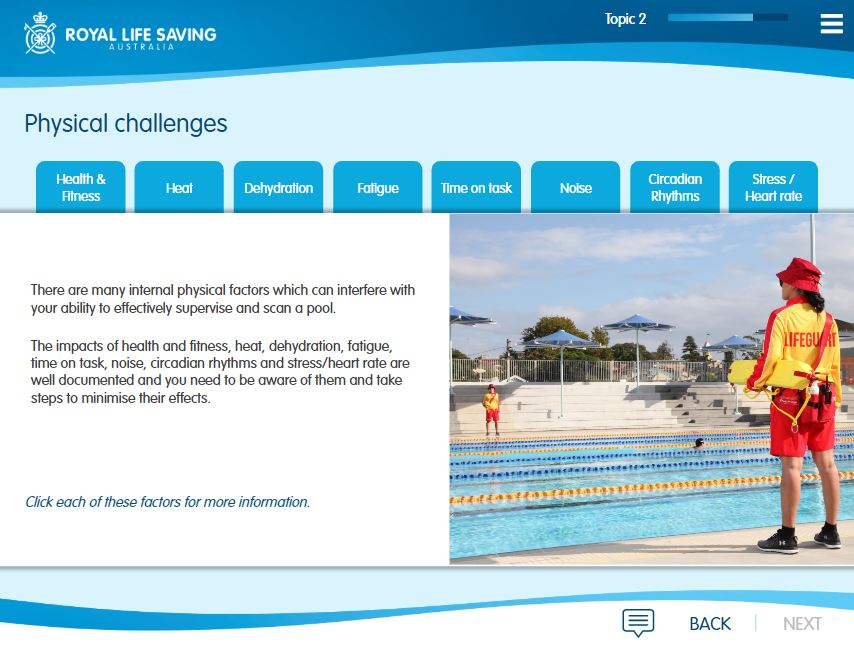 A combination of knowledge building and practical tips and strategies enables lifeguards to supervise and scan with greater confidence and clarity. It reduces the chance of error and ultimately reduces the risk for you, yourself and the organization they work for.
This module features a highly visual design and includes a series of animated and image-based video presentations and visual exercises to complete periodic knowledge prompts and checks. Topic 1 allows lifeguards to review and reflect on their initial training and current skills. Topic 2 delves into how vision, cognitive processing, attention, memory, and physiology may or may not work together to influence effective supervision. .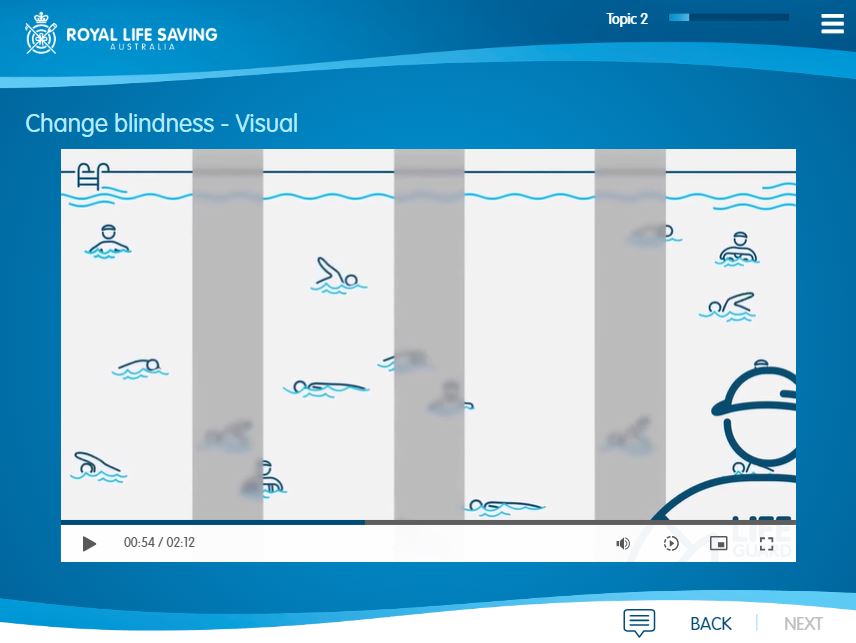 The module takes approximately 40 minutes. Participants are required to complete a knowledge check at the end of each topic in order to complete the module and access the certificate. Completion of this module will contribute to meeting the requirements for lifeguard annual on-the-job training as specified in the Guidelines for Safe Pool Operations (GSPO) – Aquatic Supervisors. This course is highly recommended for lifeguards and lifeguard managers.