Choose your own a.m. adventure! These protein-packed egg bites are super customizable and a meal prepper's dream. So easy. So yum.
Advertisement – Continue Reading Below
Yields:

12

serving(s)

Total Time:

35

mins
Basic Egg Bites
Nonstick cooking spray

8

large eggs

1 c.

milk

Kosher salt and pepper
Pico and Cheddar
1 1/4 c.

pico de gallo, drained well

3 oz.

extra-sharp Cheddar cheese, coarsely grated (about 1 cup)
Greens and Gruyere
2 c.

baby kale, roughly chopped

3 oz.

Gruyere cheese, coarsely grated (about 1 cup)
Directions
Step 

1

Heat oven to 350°F. Coat 12-cup muffin pan with nonstick cooking spray.

Step 

2

In large bowl, whisk together eggs, milk, 1/2 teaspoon each salt and pepper and ricotta, if using. Divide half of egg mixture among prepared muffin cups, followed by desired fillings (except grated cheese) and then remaining egg mixture. Top with grated cheese, if using. Bake until puffed and set, 20 to 25 minutes.

Make-Ahead Directions: Individually wrap each egg bite in plastic and freeze up to 1 month. To reheat, remove plastic wrap and microwave each muffin, wrapped in damp paper towel, until warmed through, about 2 minutes.
BASIC EGG BITES 
Each egg bite: About 61 calories, 4 g fat (1.5 g sat fat), 126 mg cholesterol, 140 mg sodium, 2 g carbs, 0 g fiber, 1 g sugar (0 g added sugar), 5 g protein
SWEET PEA AND RICOTTA
Each egg bite: About 76 calories, 4 g fat (1.5 g sat fat), 128 mg cholesterol, 144 mg sodium, 3 g carbs, 1 g fiber, 2 g sugar (0 g added sugar), 6 g protein
PICO AND CHEDDAR
Each egg bite: About 100 calories, 6 g fat (3 g sat fat), 136 mg cholesterol, 308 mg sodium, 4 g carbs, 0 g fiber, 3 g sugar (0 g added sugar), 7 g protein
GREENS AND GRUYERE 
Each egg bite: About 92 calories, 6 g fat (2.5 g sat fat), 134 mg cholesterol, 194 mg sodium, 2 g carbs, 0 g fiber, 1 g sugar (0 g added sugar), 7 g protein
Why trust Women's Health? The team of food experts in the WH kitchen develop, tweak, then cross-test each recipe (that means that every recipe is made—and tasted—at least twice!) before it's ready for your kitchen.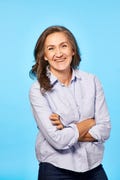 Chief Food Director
Kate Merker is the Chief Food Director and oversees the team that produces all the food content appearing in several of Hearst's top titles, including Good Housekeeping, Women's Health, Prevention, Woman's Day, and Country Living. After earning her Bachelor's Degree in Anthropology from Yale University, she graduated first in her class at the Culinary Institute of America. She has worked at Bayard's, a classic French restaurant in lower Manhattan, and New York City's famed Gotham Bar and Grill. Prior to joining Good Housekeeping in 2016, Kate worked in television, held positions at Woman's Day, and Real Simple. Her expertise in food and recipes and thoughtful approach to bringing different ingredients to America's tables have garnered national attention. Kate has perfected the art of the refrigerator surprise, making a meal from whatever might be hanging out in the fridge. A born-and-raised New Yorker, she has lived in four out of five boroughs and settled in Brooklyn. Her weekends are filled with adventures with her two young children.
Tina (she/her) is the food producer of the Hearst Lifestyle Group.  She comes to Hearst with 10 years experience in the world of food styling for editorial, digital and television platforms. When she's not cooking in her tiny Brooklyn kitchen, she can be found enjoying a beer at a local brewery, hiking in a national park or enjoying an afternoon at the beach.