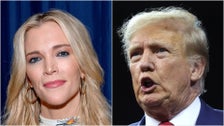 Kelly and Trump had a high-profile spat in 2015, after Kelly asked him during a GOP presidential debate about misogynistic things he'd said about women. As moderator, Kelly, who worked for Fox News at the time, pointed out that Trump had called women he dislikes "fat pigs, dogs, slobs and disgusting animals" and wondered if his temperament was suited for the presidency.
"I like Trump. You know, our relationship is complicated, a little, I think on both ends, because of everything that happened around that question, that debate," Kelly told Newsmax host Eric Bolling.
"He knows, even though I like him, I have to ask him tough questions ― that's my job. And I know that even though he's inclined to like me, he's still ticked off about that debate question," she added.
She later said she doesn't think Trump will ever totally forgive her for the question.
In June, Kelly gushed about Trump after they had what she called a "one-on-one together for the first time in years" at a conservative conference in Florida. "All that nonsense between us is under the bridge and he could not have been more magnanimous," she said at the time.