Brandi Twilley: 'Crest Foods'
Sargent's Daughters, 179 East Broadway New York, NY 10002
Through October 14, 2023
How are things in blue-collar Middle America? In Brandi Twilley's latest show, the artist, who hails from Oklahoma City, struggles to answer this question through a painterly examination of a single workplace, a grocery store called Crest Foods. With an unsentimental and mercilessly probing brush, Ms. Twilley examines the exterior, interior, and all the employees of the store over 40 canvases, with results that can be unsettling. 
Ms. Twilley, who also worked at the grocery chain, depicts working-class America with a searing vividness that would seem voyeuristic if it didn't emerge from her personal experience. This is Ms. Twilley's hometown and these are her people. Nevertheless, the portraits of these shift employees do not sit in their frames so much as haunt them. 
We are confronted with faces of want, despair, uncertainty, and what sometimes looks like out-and-out addiction. There is a resignation and sadness to Ms. Twilley's subjects, coupled with a stubborn will to continue that can be humorous and, at times, redemptive. These subjects evoke a Midwestern Dickens, full of vivid quirks, but each with their own irrepressible humanity. 
Ms. Twilley's adeptness at psychological portraiture is so acute as to be uncomfortable. We feel the presence of these individuals palpably, as if they were standing physically in front of us. With a washed-out but deeply contrastive palette of whites, grays, and black reminiscent of John Singer Sargent, we see pallid or dark skin glowing under fluorescent tubes, the peculiar windowless lighting of a supermarket. 
Only occasionally does she add a hint of color, usually in the form of a highlight, or a price tag or product sign in bright fluorescent colors. Twilley's world is mostly monochrome, punctuated with forced commercial cheer.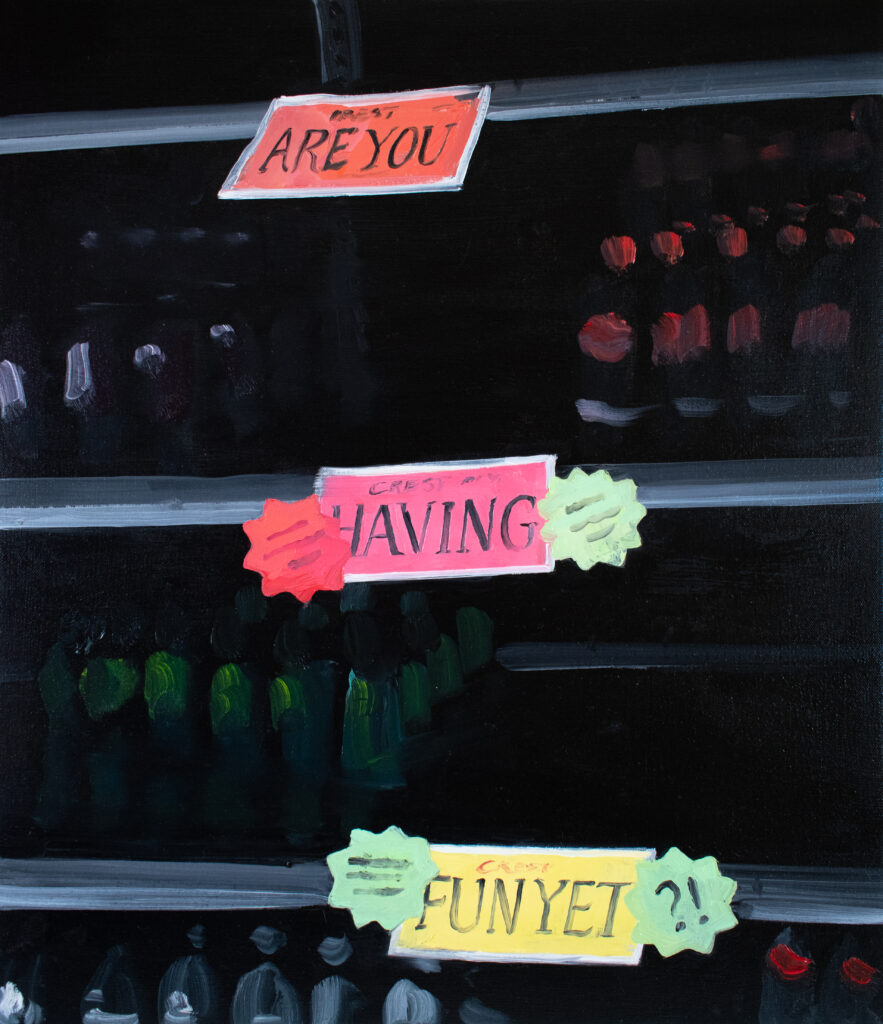 "Are You Having Fun Yet?" reads three labels affixed to shelves of bottled water, in one of Ms. Twilley's store interiors. Sandy, one of her employee portrait subjects, stares out at us as if she has the answer. She radiates a level of weather-beaten exhaustion and resignation worthy of Picasso's "Woman Ironing." You can guess at her story, and it seems fraught. 
Another subject, Larry, radiates a managerial air, and appears caught mid-anecdote or admonishment: wry, leathery, and perhaps a bit gruff. Jeff, who looks like he might be both an avid hunter and a doomsday prepper, simmers with a raw anger we've grown to associate with a certain strain of American populism. Another employee, Sam, is simply shown asleep on the toilet, pants below his knees. Whether he's out from too many shifts or is yet another victim of the Midwestern opioid crisis remains up for grabs. 
Other sitters radiate a quiet intensity that borders on nobility, recalling Dorothea Lange's iconic 'Migrant Mother' portrait from the Depression. Ronald, eyes a dull red, is clearly tired but stares out with something resembling aspiration, and Nicholas simply has the promise of cornfed youth, though something about the future trajectory of his life appears to be dawning on him. Ms. Twilley adds her own self-portrait: clean scrubbed, pretty, and entirely Midwestern, staring out for posterity as participant, recorder, and witness. 
There is a faint romantic narrative at play in the way that Ms. Twilley inserts herself into her show. One painting is a backshot of the artist, brunette hair blowing in the wind as she stares down a highway. Called "The Search," it epitomizes the arc of Ms. Twilley's painting career as her attempt to revisit and portray the forlorn parts of working-class America.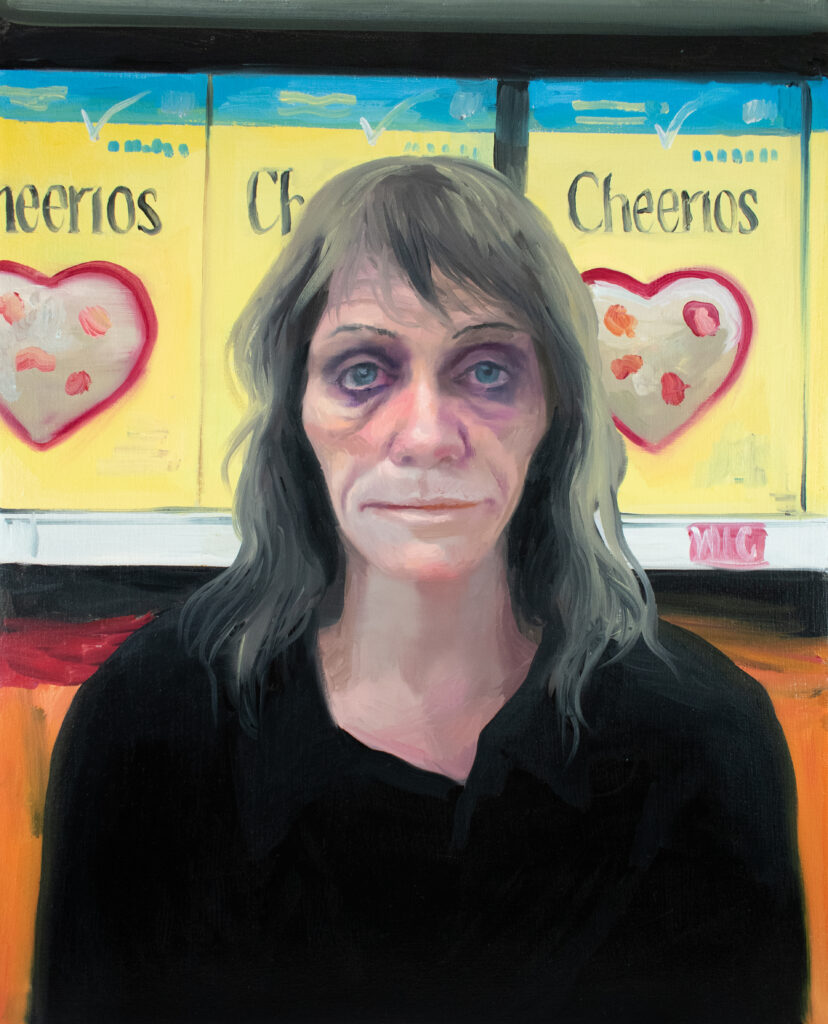 This also reflects her effort to find out who she is as an individual and an artist. There are flashes of beauty as well, a rosy sunset over the sparse suburban skyline, or the faces of employees showing the obvious joy of a smoke break. Working-class life does not appear easy, but it has its pleasures.  
Ms. Twilley has gone this way before. The child of a working-class family, she began her painting career in 2016 by cataloguing her childhood home in different seasons, partly from Polaroids and partly from memory, as the home was destroyed in a fire. Ms. Twilley exhaustively mined her cluttered home in a series of murky canvases, conveying such a perfect balance of nostalgia and bleakness that she immediately caught the art world's attention. 
"Crest Foods" is Ms. Twilley's fourth show in New York. I look forward to what her next exploration of Oklahoma's working class will bring, but I do so with more than a little uneasiness.