The original Path of Exile is in the pantheon of loot-driven action RPGs alongside games like Diablo and Titan Quest. With the upcoming sequel, Path of Exile 2, the developers at Grinding Gear Games plan to continue with the original's rich focus on crafting character builds with a variety of skills and buffs but take it even further with a suite of new classes and a larger world to explore.
Initially planned as a massive overhaul of the current Path of Exile, the second game will now be a stand-alone sequel that will exist alongside the original – all with the intent to give fresh and returning players a new adventure with more monstrosities to take down and more precious loot to collect
Speaking with Grinding Gear Games managing director Chris Wilson and Path of Exile 2 game director Jonathan Rogers, they gave a breakdown of the sequel's Druid class and how far you can push the character with the revised skill gem system, and how that gives Path of Exile 2 a unique flavor compared to other games.
"We've been very happy with the response from fans since Exilecon, and the main thing that we took away from it is that people have been surprised to see how different the game is compared to the original," says Wilson. "It was a lot of shock to people to see how much bigger and more action-oriented it is – people just thought it would be a similar campaign, which is not the case. With the scope of the sequel and how it handles progression in the campaign, it made our decision to split this off very necessary, to show people how much of a different game Path of Exile 2 is."
Path to success
The visuals and faster pace of action with Path of Exile 2 shows a very significant jump up from the original, which is now over 10 years old and still going strong with seasonal activities and expansions. With the sequel, the game focuses more on a traditional solo or party-based co-op experience, which the developers stated was to set itself apart from Diablo 4's MMO-style online world experience.
One of the new classes shown off recently at Gamescom 2023 was the Druid class, which the developers showed off in an extended demo in the procedurally generated location known as the Isle of Kin in Path of Exile 2's Act 4. The sequel has a larger focus on you in fast-paced encounters that can escalate quickly. PoE2 also includes new innovations, such as a dodge roll for combat to help with evading enemies, which is in keeping with the more action-oriented pace of the game.
As is tradition with fantasy role-playing games, the Druid class is a strength and intelligence-focused class that blends magic spells with brute force via shapeshifting skills. In Path of Exile 2, the Druid class can shift seamlessly between their human and bear forms, each with their skills and attributes that open up some complex combination attacks against foes. The Druid has a slick way of conjuring up sweeping area-of-effect spells and unleashing raw aggression on a whim. It makes it an easy class to pick up, but with Path of Exile 2's approach to tuning characters, you can take this character up a significant notch with the ability to add perks from other classes.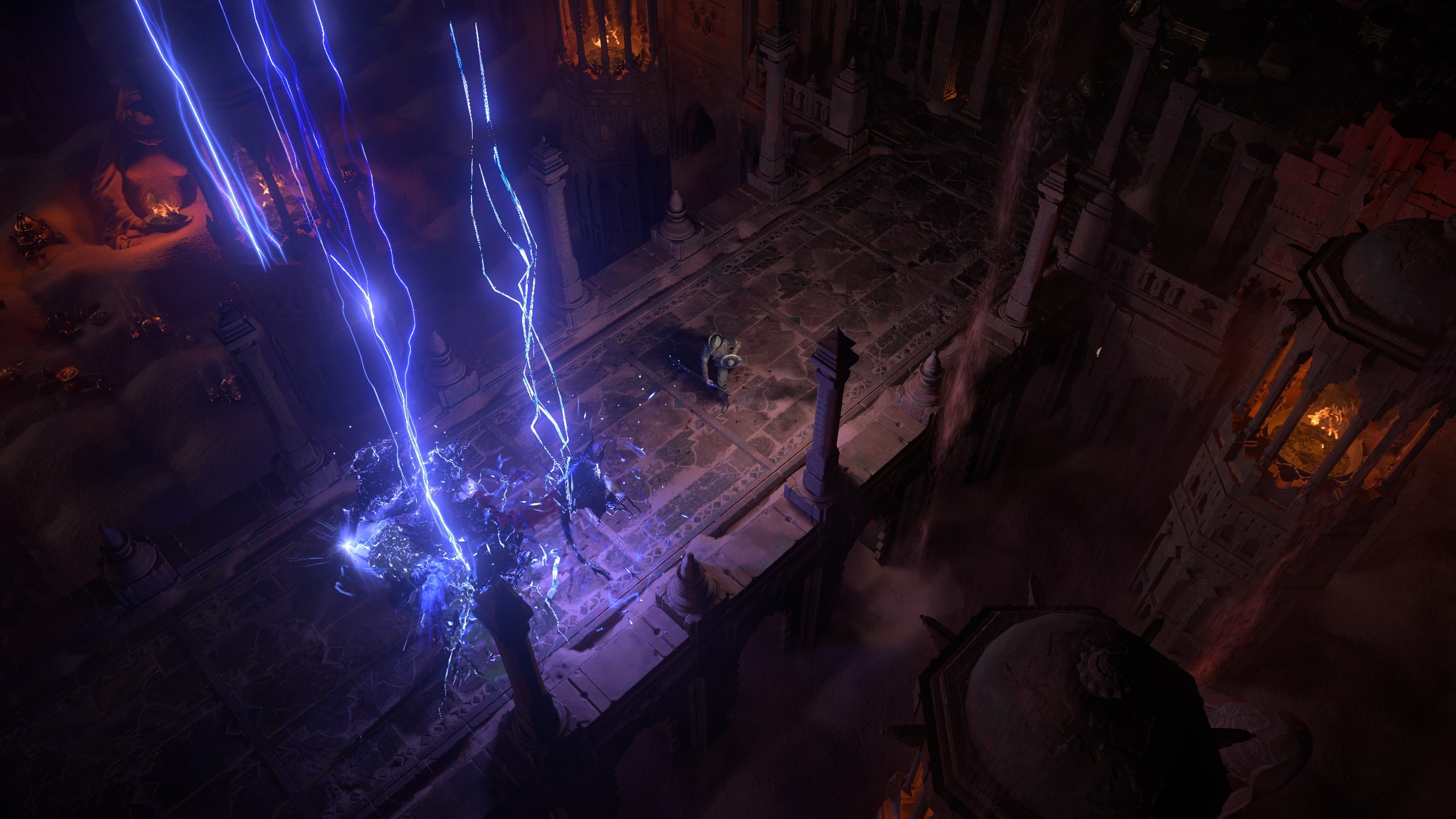 Path of Exile 2 features a revised Skill Gem system, which allows players to attach gems imbued with buffs from other classes to core skills, and apply them to their character. This added customization was a game-changing element in the original, and it's made easier to get into with the sequel with a streamlined menu system. Game director Jonathan Rogers showed off one example of the customization by applying a skill gem with the warrior class's seismic slam ability to the Druid's bear charge, creating additional shockwaves when the beast ran through crowds.
During a boss encounter on the Isle of Kin, the Druid chained together lighting and volcano eruption spells and then transformed into a bear to pulverize them with their amped-up charge. This customization honestly gave the Druid class real Boss-energy, which was very satisfying to see. That sense of feeling powerful, almost overwhelmingly so, has been a part of Path of Exile since its beginning, and the game director was very keen on maintaining that aspect for the sequel, which adds even more classes to experiment with.
"We learned a lot from Path of Exile and a decade of power creep, so we know when things can get out of hand for players finding powerful setups," says Rogers about gameplay balancing. "We care a lot about making sure the gameplay and different systems are balanced enough at a reasonable point, but at the same time, everyone wants to feel like they're breaking the game somehow."
"We want to have the ridiculousness and that feeling of completely destroying this thing without actually overwhelming everything to the point where it doesn't function anymore. Balance is hard, but we've got quite a bit of experience with it now. So we'll be able to sort that out as they come."
The sequel is a sharper, faster game that's already showing tons of promise. In many ways, following recent reception with Diablo 4, Path of Exile 2 could end up being in an interesting position to find a new audience of players looking for a new action RPG to dive into when it launches later in 2024. Path of Exile 2's focus on getting players to feel like they can take on the whole world, giving players that amped-up power fantasy with deep options to tune your hero, offers great potential for a special kind of action RPG.
---
Here are 25 of the best RPGs you can (and should) lose your free time to right now