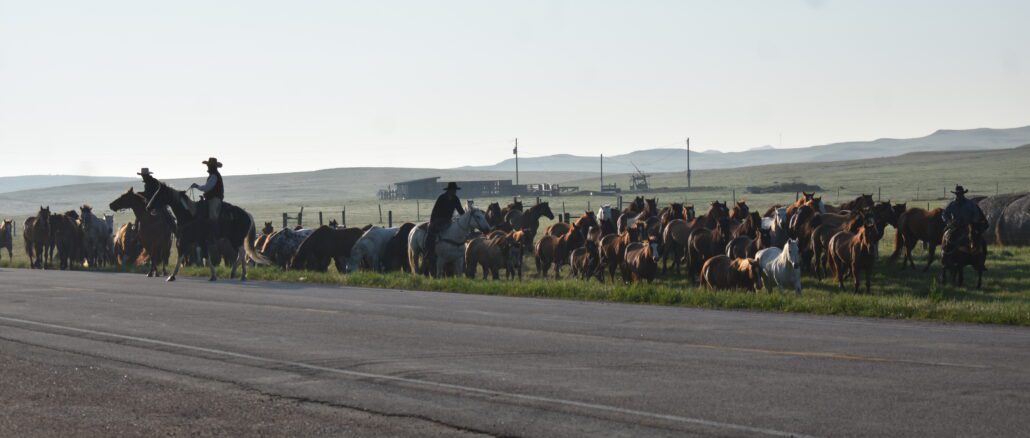 Eatons Horse Drive on Memorial Day
On September 12, and again on September 19, both beginning at 10 a.m., the SCLT Explore History program will present a very special tour of Wyoming's original dude ranch. Attendees will learn about the history of Eatons' Ranch, tour the buildings, and experience its beautiful location along Wolf Creek.
On Sept. 12, the attendees will meet at the Hub on Smith, and on the 19th the tour will start from the TRVCC in Dayton.
Eatons' is the oldest 'dude' or western guest ranch in America. In the early ranching days, inexperienced people who came west were often referred to as 'greenhorns' or 'dudes'.
The Eatons started out in North Dakota on a horse and cattle ranch which began taking in Eastern guests. In 1904, they moved their operations to the present location at Wolf, Wyoming, outside of Dayton. The ranch has always been a family affair and is now operated by the fourth and fifth generations of Eatons.
This interesting tidbit from The Sheridan Post on July 2, 1921 – Alden and Willis Eaton of the Eaton ranch at Wolf went to Clearmont yesterday to arrange for the baggage of one hundred "dudes" who are expected to arrive today and tomorrow from the East to spend the summer at the Eaton ranch.
RSVP Required for this tour and space is limited.
Contact Lisa Wells @ The Hub on Smith
Email lwells@thehubsheridan.org or call 307-672-2240
For the Dayton tour, contact Chad Aksamit, email caksamit@trvcc.org or call 307.655.9419

255