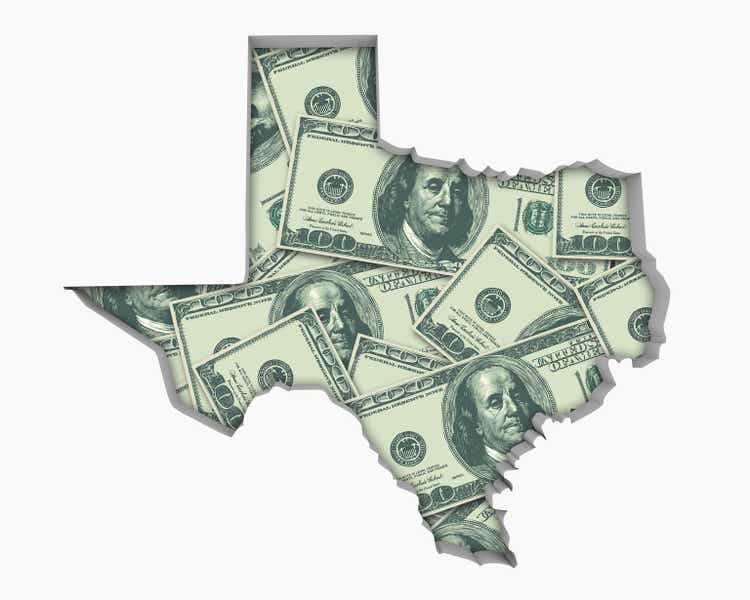 I'm a proud resident of the Lone Star State of Texas.
I realized recently that just as investors tend to have a home country bias in their investment portfolios, I also have a home state bias. My dividend growth stock portfolio is heavily weighted towards companies that are either headquartered in Texas or derive a large portion of their business from Texas.
And in this case, I think home state bias makes a lot of sense.
In what follows, I want to highlight the strength of the Texas economy, discuss why it's a great place to invest, list the 54 Fortune 500 companies domiciled in the state, and finally discuss my own Texan dividend growth stock portfolio.
The Fast-Growing Texas Economy
If the state of Texas was its own country, it would boast the 9th largest economy in the world, bigger than that of Australia, Mexico, Spain, or Russia. Given the trajectory of Texas' GDP growth, it should soon overtake the GDP of Italy, which would then make it the 8th largest economy in the world.
Texas enjoys an abundance of land and natural resources, especially fossil fuels but also plenty of sunshine for solar arrays and a strong wind corridor in North Texas for wind turbines. Access to the Gulf Coast also enables increasing energy and tech hardware exports, while imports at the Port of Houston continue to grow.
And given the state's generally lower cost of living, business-friendly regulatory environment, and lack of a state income tax, it has enjoyed some of the fastest population and job growth in the country while drawing numerous corporations in recent years.
In fact, Texas recently overtook California for the title of hosting the most Fortune 500 companies in the nation – 54, to be exact, after Caterpillar's (CAT) relocation to Texas from Illinois. And Frank Holmes, writing for Forbes, argues that the corporate relocations into Texas aren't over.
As I like to say, money flows where it's respected most. If that's true, then we should continue to see Texas, which has among the most business-friendly policies in the U.S., take additional market share of corporate headquarters away from other states.
Higher growth in corporate market share as well as people and jobs is an ideal formula for above-average economic growth.
Texas even has an above-average birth rate, which indicates that population growth isn't coming merely from poaching residents of other states. In 2021, the Texas fertility rate stood at 1.81, the 14th highest in the country and above the U.S. average of 1.66. Births in Texas made up 10.2% of total U.S. births in 2021, while the Texas population made up only 8.9% of the total US population.
In Q4 2022, Texas enjoyed the fastest real GDP growth in the US at 7%, well ahead of the 2.6% growth rate for the nation as a whole.
Though it might be a bit hard to read, the following chart shows year-over-year real GDP growth for Texas (in blue) compared to the same for the U.S. (in red):
As you can see, Texas economic growth has consistently been higher than the national average, and the state's economic contraction was more muted than the national average during the 2008-2009 and 2020 recessions.
Is Texas's growth momentum likely to slow anytime soon? I don't think so.
Companies are investing heavily in the Lone Star State, which should ensure many more years of growth ahead. In 2021, Texas garnered the most business investment projects in the nation, more than double the state with the second most projects. Here are some examples:
The Texas Fortune 500 Companies List
As previously mentioned, Texas is home to the most Fortune 500 company headquarters in the nation, with producer of construction equipment Caterpillar being the most recent addition.
Here's the full list of Fortune 500 companies headquartered in Texas:
| | | |
| --- | --- | --- |
| Fortune 500 Company | Industry | Dividend Yield |
| Exxon Mobil (XOM) | Energy | 3.5% |
| McKesson Corp. (MCK) | Health | 0.5% |
| AT&T (T) | Telecom | 6.6% |
| Phillips 66 (PSX) | Energy | 4.5% |
| Valero Energy (VLO) | Energy | 3.7% |
| Dell Technologies (DELL) | Tech | 3.3% |
| Energy Transfer (ET) | Energy | 9.9% |
| Tesla (TSLA) | Cons. Disc. | N/A |
| Sysco (SYY) | Cons. Staples | 2.7% |
| Caterpillar (CAT) | Construction | 2.3% |
| ConocoPhillips (COP) | Energy | 5.4% |
| Plains GP Holdings (PAGP) | Energy | 7.9% |
| Enterprise Products Partners (EPD) | Energy | 7.6% |
| Oracle (ORCL) | Tech | 1.6% |
| USAA | Insurance | N/A |
| American Airlines (AAL) | Transports | N/A |
| Hewlett Packard Enterprise (HPE) | Tech | 3.5% |
| D.R. Horton (DHI) | Homebuilder | 0.9% |
| CBRE Group (CBRE) | Real Estate | N/A |
| NRG Energy (NRG) | Utilities | 4.4% |
| Occidental Petroleum (OXY) | Energy | 1.2% |
| Baker Hughes (BKR) | Energy | 2.8% |
| Builders FirstSource (BLDR) | Industrials | N/A |
| Tenet Healthcare (THC) | Health | N/A |
| Kimberly-Clark (KMB) | Cons. Staples | 3.3% |
| Charles Schwab (SCHW) | Financials | 2.0% |
| EOG Resources (EOG) | Energy | 3.0% |
| HF Sinclair (DINO) | Energy | 4.5% |
| Texas Instruments (TXN) | Tech | 3.0% |
| Waste Management (WM) | Utilities | 1.7% |
| Targa Resources (TRGP) | Energy | 2.9% |
| Kinder Morgan (KMI) | Energy | 6.9% |
| Cheniere Energy (LNG) | Energy | 1.1% |
| Southwest Airlines (LUV) | Transports | 2.5% |
| Halliburton (HAL) | Energy | 2.3% |
| Pioneer Natural Resources (PXD) | Energy | 11.3% |
| Fluor (FLR) | Consulting | N/A |
| AECOM (ACM) | Consulting | 0.9% |
| Jacobs Solutions (J) | Consulting | 0.9% |
| Group 1 Automotive (GPI) | Cons. Disc. | 0.8% |
| Quanta Services (PWR) | Infrastructure | 0.2% |
| Vistra Corp. (VST) | Utilities | 3.4% |
| Westlake (WLK) | Chemicals | 1.3% |
| Yum China Holdings (YUMC) | Restaurant | 0.8% |
| Celanese (CE) | Chemicals | 2.7% |
| Huntsman Corp. (HUN) | Chemicals | 3.8% |
| CenterPoint Energy (CNP) | Utilities | 2.6% |
| APA Corp. (APA) | Energy | 3.1% |
| KBR Inc. (KBR) | Consulting | 0.9% |
| Diamondback Energy (FANG) | Energy | 2.5% |
| Academy Sports and Outdoors (ASO) | Cons. Disc. | 0.6% |
| Commercial Metals Company (CMC) | Materials | 1.5% |
| EnLink Midstream (ENLC) | Energy | 5.4% |
| Southwestern Energy (SWN) | Energy | N/A |
Of the 54 Texas-based Fortune 500 companies:
53 are publicly traded
46 pay dividends
31 offer dividend yields of 2% or higher
21 offer dividend yields of 3% or higher
35 are NOT in the energy sector
A "Lone Star Dividend Growth Portfolio"
The list of Fortune 500 companies headquartered in Texas is a decent place to look for investing ideas, but being headquartered in Texas doesn't necessarily mean that these companies derive most of their revenue from operations in Texas. Some do, but not all.
And many of the energy companies certainly do derive a majority of their revenue from Texas oil & gas basins, pipelines, storage facilities, or refineries, but they are not good proxies for the strength of the Texas economy because the prices of oil and gas are determined by national and even global factors.
Some great, dividend-paying stocks derive the majority (or a plurality) of their revenue from Texas while being headquartered outside of Texas. Since my background and specialty is in commercial real estate, I'll give two examples from the world of REITs:
BSR REIT (OTCPK:BSRTF), an owner of Class B apartment complexes, derives over 90% of its revenue from suburban apartment properties in Texas, and yet the company is headquartered in Little Rock, Arkansas, and the stock is only listed on the Toronto Stock Exchange and over-the-counter in the US.
InvenTrust Properties (IVT), a retail shopping center landlord, derives over 40% of its revenue from Texas, and yet the company is headquartered in Chicago, where it owns no real estate.
In fact, I believe REITs are probably the best way to gain access to the Texas economy, because real estate properties are obviously location-specific. Supply of and demand for real estate is local, not national or global. Therefore, the prices of real estate, both in terms of property values and rent rates, are largely determined by local factors.
This differs from, say, Tesla, because although CEO Elon Musk's EV car company is headquartered in Texas and does a fair amount of its manufacturing in Texas, the vast majority of its sales come from outside the state.
Another great way to tap into the economic strength of the Lone Star State is through Texas regional banks. As businesses grow and people move to the state, build new houses, and obtain mortgages for those houses, regional banks in Texas are some of the most concentrated beneficiaries. They take deposits, turn them into business or mortgage loans, and collect the spread as profits.
Of course, that spread is tightening in a big way right now as banks' costs of deposits is surging amid high short-term interest rates, but the strongest Texas banks will survive the present difficulties and thrive when the environment normalizes.
Some examples include:
However, in the current environment of high deposit costs, tight credit, and eroding debt service coverage ratios, I would urge caution around buying smaller banks or those that make riskier loans, such as CMA. As proven multiple times this year, many regional banks are definitely not "too big to fail" or systemically important enough to save.
As such, I only own a few regional banks, only one of which is headquartered in and focused on Texas, and I have done deep due diligence to ensure that they are well-protected against the onslaught that rages against the mid-cap banking industry right now.
With that said, here's my 18-stock, Texas-focused dividend growth portfolio:
| | | |
| --- | --- | --- |
| Stock | Texas Exposure | Dividend Yield |
| American Electric Power (AEP) | ~15-25% | 3.8% |
| American Homes 4 Rent (AMH) | 15% | 2.6% |
| Cullen/Frost Bankers (CFR) | ~100% | 3.6% |
| Crown Castle (CCI) | N/A (HQ in Houston) | 5.6% |
| Camden Property Trust (CPT) | 26% | 3.8% |
| Capital Southwest (CSWC) | N/A (HQ in Dallas) | 12.3% |
| EastGroup Properties (EGP) | 35% | 3.1% |
| Enterprise Products Partners (EPD) | Majority | 7.6% |
| Essential Properties Realty Trust (EPRT) | 12% | 4.5% |
| InvenTrust Properties (IVT) | 41% | 4.0% |
| Kinder Morgan (KMI) | Majority | 6.9% |
| Mid-America Apartment Communities (MAA) | ~25% | 3.8% |
| Main Street Capital (MAIN) | N/A (HQ in Houston) | 6.9% |
| NNN REIT (NNN) | 17% | 5.1% |
| National Storage Affiliates (NSA) | ~35% | 5.8% |
| NexPoint Residential Trust (NXRT) | 23% | 4.1% |
| Vistra Corp. (VST) | Majority | 3.4% |
| Whitestone REIT (WSR) | ~60% | 5.8% |
Admittedly, the list includes some names for which I don't know revenue derives from the Texas economy. CSWC and MAIN are business development companies based in Texas, so I suspect that each of them slightly favors the state over others. And CCI is a national telecommunications tower/fiber REIT based in Houston. The same could be true for it in terms of a slight home state bias.
A third particular industry/sector that could be a good way to tap into the Texas economy is midstream energy — i.e. oil and gas pipelines, storage facilities, processing plants, and export terminals.
The midstream sector typically derives revenue from long-term, fixed-rate contracts. As such, they make money so long as fuel keeps flowing through its infrastructure over a long period of time, which it is expected to do in Texas. This is especially true due to increasing exports of oil & gas, facilitated by the terminals owned by the likes of EPD, KMI, and LNG.
A fourth industry/sector that gives investors access to the Texas economy is utilities. As the Texas economy grows, so too will its need for electricity (and gas). These could be:
Regulated utilities with legal monopolies over certain service areas
Retail utilities that compete for customers in certain territories
Independent power producers that generate electricity and sell it to utilities under long-term contracts
The only regulated utility I own in the Lone Star DGI Portfolio is AEP, which primarily serves West and South Texas as well as a section of Northeast Texas.
Meanwhile, VST is an independent power producer that generates electricity from nuclear, natural gas, and coal plants as well as wind and solar facilities, and the company also owns the unregulated retail utility TXU Energy.
Takeaway
Texas is a great place to live and invest, in my opinion. But merely seeking out companies headquartered in Texas is a bit shallow and misguided, because their revenues could mostly or almost entirely derive from elsewhere. Truly tapping into the fast-growing Texas economy takes a bit more thought.
My preference would be to tap into the Texas economy primarily through four industries/sectors:
REITs that own Texas real estate
Regional banks in Texas
Midstream energy companies with infrastructure assets in the state
Utilities with legal monopolies on Texas territories or strong retail utility brands
But I am sure there are other great stocks out there offering investors the chance to profit from the growth of the Texas economy. Let me know your picks!